Casino – CalvinAyre.com
Laos' King Romans Casino co-owner decries 'transnational criminal' tag
Embattled Chinese casino operator Zhao Wei has cried foul over the "transnational criminal organization" (TCO) tag that the U.S. government gave his company.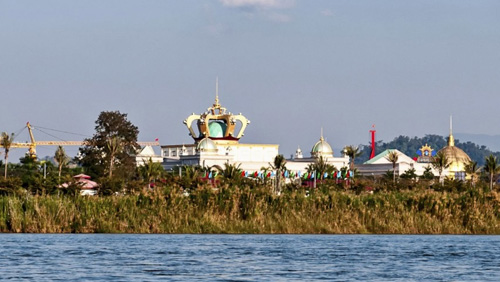 "Hegemonic act of ulterior motives" was how Zhao Wei, co-owner of Kings Roman Casino in Laos, described the U.S. Treasury's findings linking his network to trafficking in drugs, people and wildlife, according to the Radio Free Asia report.
In a statement issued over the weekend, Zhao dismissed the findings ofthe Department of the Treasury's Office of Foreign Assets Control (OFAC) as a "malicious rumor-mongering" aimed at misleading the public.  He denied being involved in any illicit activities.
"As an investor, all of my own activities and those of my staff and companies in all countries and areas are legal, ordinary business operations supervised by the legal authorities of the relevant countries that have not harmed the interests of any country or individual," Zhao said, according to the news outlet.
Officials of the Bokeo Province administration in Laos also defended Zhao from the allegations that the OFAC hurled against the casino operator. A Laos official was quoted by the news outlet saying, "The accusation is not true because the place is properly managed and operated. Furthermore, our government is also monitoring the venue."
Last month, the OFAC accused Zhao of using Kings Roman Casinoto store and distribute heroin, methamphetamine and other narcotics. Since 2014, Thai, Lao and Chinese authorities have seized large narcotics shipments that have been traced back to the casino.
Zhou's group, dubbed by the OFAC as Zhao Wei TCO, was allegedly involved in human trafficking and child prostitution through its operations in the Golden Triangle Special Economic Zone in Laos. TCO was also engaged in the illegal trade of endangered animals such as Asiatic black bears, pangolin, tigers, rhinos and elephants.
The U.S. Treasury said it has already frozen Zhou's assets to cripple his illicit network. The U.S. Treasury freeze order also included Zhao's wifeGuiqin Su, Australian Abbas Eberahim, and Thai national Nat Rungtawankhiri for "providing material support and acting for or on behalf of" Zhao's group.
The post Laos' King Romans Casino co-owner decries 'transnational criminal' tag appeared first on CalvinAyre.com.