Casino – CalvinAyre.com
Philippine justice department issues lookout order vs. Kazuo Okada
The Philippines' Department of Justice (DOJ) has alerted law enforcement agencies to be on the lookout for the possible arrival or departure of Japanese gambling mogul Kazuo Okada, who now faces a $10 million fraud and perjury cases in the country.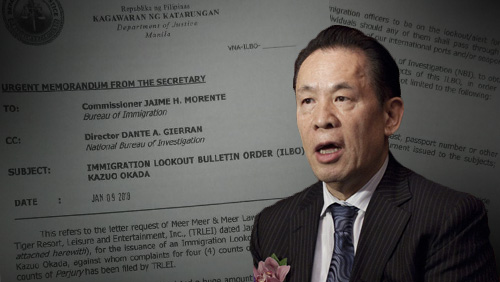 Justice Secretary Vitaliano Aguirre issued a two-page, Immigration Lookout Bulletin Order (ILBO) against Okada at the request of Tiger Resort Leisure and Entertainment Inc. (TRLEI), the company managing Okada Manila.
In issuing the ILBO, Aguirre pointed out that "there is a strong possibility that he [Okada] may attempt to place himself beyond the reach of the legal processes of the government by leaving the country."
"We thus deem the issuance of an ILBO against the subject person [Okada] in order to at least monitor the itineraries of his flight, travel, and/or whereabouts," the ILBO stated, a copy of which was obtained by CalvinAyre.com.
Unlike the hold departure order that the Philippine courts usually issue, the ILBO is used for monitoring purposes and will not direct immigration officers at airports and seaports from preventing accused individuals from leaving the country. People subject to the ILBO will need to secure an Allow Departure Order (ADO) from the DOJ chief—in this case, Aguirre—before they can leave the country.
Aguirre ordered Philippine authorities to take all appropriate actions "including, but not limited to coordinating with concerned offices and agencies, and even airlines, especially since international passengers are customarily required to check-in within a specified number of hours before the flight."
Okada, who previously served as chief executive officer of TRLEI, is currently facing fraud and perjury cases in connection with the alleged unlawful use of corporate funds worth $10 million.
In the first complaint, TRLEI accused Okada of pocketing $3.16 million in salaries and consultancy fees despite serving as the company's chief executive officer for only a month.
The second criminal case against Okada stemmed from his decision to award a $7-million supply contract for the installation of LED fixtures in Okada Manila to his own company, Aruze Philippines Manufacturing Inc.
Aside from the Philippines, Okada is also facing a $17.4 million suit before the High Court of the Hong Kong Special Administrative Region in connection with the anomalous loans made to Goldluck Tech Limited and the unauthorized issuance of check from United Entertainment Corp.'s Hong Kong subsidiary, Tiger Resorts Limited (TRA).
The post Philippine justice department issues lookout order vs. Kazuo Okada appeared first on CalvinAyre.com.