Casino – CalvinAyre.com
Asian-fueled Las Vegas Sands rakes $3.58B in Q1
Billionaire Sheldon Adelson is planning to bet more money in Asia after his gambling facilities in Macau and Singapore helped boost casino operator Las Vegas Sands Corp. during the first quarter of 2018.
In a regulatory filing, Sands announced that its net revenue in the three-month period was at $3.58 billion, up 16.7 percent from $3.11 billion in the same period in 2017. The figures exceeded most analysts' expectations of $3.36 billion. Sands' reported profit of $1.04 a share also exceeded analysts' expectation of 85-cent average.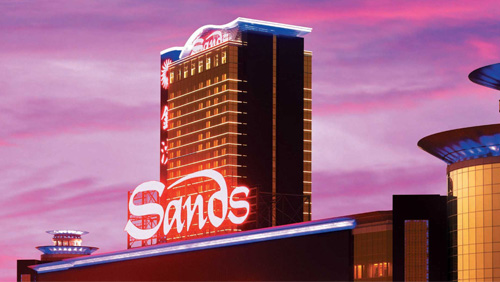 The casino operator's consolidated adjusted property earnings before interest, taxes, depreciation, and amortization (EBITDA) leaped 30.7 percent to a record of $1.50 billion.
Sands' success relies on the strength of its facilities in Macau and Singapore, which both posted double-digit percentage growth. The firm's Las Vegas operations provided additional support.
"The power of our unique convention-based Integrated Resort business model was once again on display during the quarter, with record quarterly financial results achieved in Macao, Singapore and Las Vegas," Adelson said in a statement.
Figures released on Wednesday showed that Sands China Ltd. posted total net revenue of $2.16 billion, up 17 percent year-on-year. Its adjusted EBITDA for Macau rose 26 percent to $789 million due to higher VIP hold rate and increase in mass table gaming drop.
Adelson noted that Sands China "broke a number of quarterly records," including "the highest-ever mass table gaming drop and revenue, the highest-ever retail mall sales, and the highest EBITDA margin since the third quarter of 2006".
Venetian Macao led the revenue rally in Macau, with net revenue growing 19.6 percent to $868 million while casino revenue rose 20.1 percent to $716 million. Sands Cotai Central, which is being rebranded as The Londoner, managed a 19.6 percent net revenue gain despite poor rolling chip volume.
Cotai Central chalked up $549 million in net revenue while its rolling chip volume was at $2.41 billion. Mass table drop grew 19.8 percent to $1.76 billion with Adjusted Property EBITDA up 40.6 percent to $201 million.
Net revenue of Parisian Macau climbed 15.8 percent to $359 million as rolling chip volume rose 23.5 percent to $4.60 billion. The Parisian's mass table drop rose 10.5 percent to $1.09 billion. Adjusted Property EBITDA improved 41.5% to $116 million.
A solid 66.9 percent increase in rolling chip volume and 37.3 percent growth in mass table drop fueled The Plaza Macao and Four Seasons Hotel's revenue growth. Its net revenue increased 38.4 percent to $191 million while casino revenues grew 54.3 percent to $142 million.
The only Macau property that was unlucky in Q1 was Sands Macao, which saw its net revenue fall 13.5 percent to $154 million.
In Singapore, Marina Bay Sands' casino revenue jumped 32.5 percent year-on-year to $652 million. Its adjusted property EBITDA hit $541 million, up 48.6 percent.
With business prospects looking bright in Asia, Adelson shared his ambitions of expanding his casino empire in Korea and Japan.
Adelson sees Korea as a potential new revenue stream for the company, citing a market intelligence that the Asian country is set to allow the construction of another locals-only casino. At present, Kangwon Land has the monopoly of locals-only casino market in South Korea.
"We think we are… number one in that line. Korea could be real," Adelson said.
The casino mogul also reiterated his interest in getting a slice of Japanese casino market.
The post Asian-fueled Las Vegas Sands rakes $3.58B in Q1 appeared first on CalvinAyre.com.