Casino – CalvinAyre.com
Former Mohegan Sun Pocono VP helped rig Easter Egg contest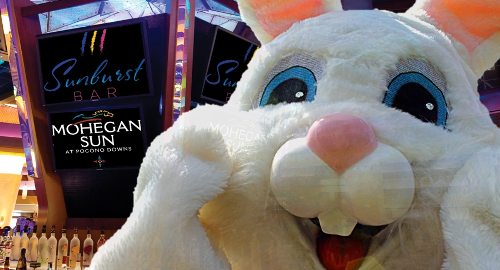 A former senior exec at the Mohegan Sun Pocono casino in Pennsylvania has been arraigned on charges related to a fixed Easter Egg contest.
On Wednesday, Robert Joseph Pellegrini was hit with felony charges of theft and receiving stolen property along with a misdemeanor charge of conspiracy to participate in a rigged contest that took place at the Mohegan Sun Pocono venue in 2014.
Pellegrini is the casino's former VP of player development who was sentenced in June 2017 to 32 months in prison for conspiring with Mark Heltzel, a longtime casino customer, to cheat the venue's free slots credit system. The scam ultimately cheated the casino out of $478k.
These latest charges relate to an Easter sweepstakes in which casino customers were 'randomly' selected to pick a plastic egg out of a basket for the opportunity to win a $10k prize. Casino host Kenneth Rowlands enlisted the help of Colin Ray Boecker, another casino staffer, to ensure that Heltzel would be selected to pick an egg, and that Heltzel knew in advance which egg was the grand prize winner.
While Pellegrini wasn't in on the scam to begin with, the Times-Tribune reported that Heltzel clued him in due to their involvement in the free play scam, and Heltzel believed Pellegrini would be pissed if he knew someone was dipping their hands into the till without giving him a taste.
After Heltzel's 'lucky' draw, Pellegrini received a $2k cut, while the other two staffers received $1k apiece. In March, both Rowlands and Boecker were hit with charges similar to the ones Pellegrini now faces. Heltzel, who is currently serving an 18-month sentence from the free-play scam, has yet to be charged over the egg shenanigans.
Last December, the Pocono casino was fined $550k by Pennsylvania gaming regulators for "failure over a multi-year period to follow approved internal controls regarding free slot play, the main bank and internal audits."
Mohegan Sun Pocono is part of Mohegan Gaming & Entertainment (MGE), which is run by Connecticut's Mohegan tribe. MGE also operates its flagship Mohegan Sun property in Connecticut, manages gaming operations at Atlantic City's Resorts Casino Hotel, is a partner in the Ilani Casino Resort in Washington state and is prepping its first international casino project in South Korea.
The post Former Mohegan Sun Pocono VP helped rig Easter Egg contest appeared first on CalvinAyre.com.