Casino – CalvinAyre.com
Strong table game results lift GKL May casino sales
South Korea's second largest foreigners-only casino operator Grand Korea Leisure Co. Ltd. (GKL) recorded 16.7 percent growth in its casino sales in May, thanks to the stellar performance of its table games.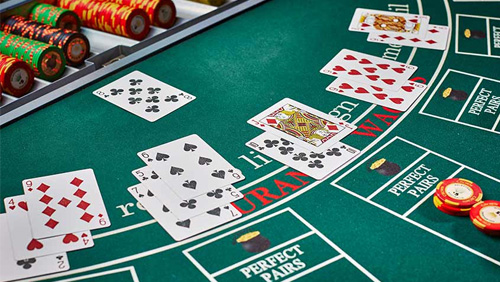 In a disclosure to the Korean Exchange on Friday, GKL announced that its casino sales for May 2018 grew to KRW40.59 billion (US$37.9 million) from KRW34.76 billion ($32.33 million) during the same period last year.
On a month-to-month comparison, GKL's casino sales were up 2.7 percent from KRW39.52 billion ($36.76 million) in April 2018.
The company attributed the higher May results to robust table revenue, which grew 21.8 percent to KRW35.58 billion ($33.09 million). It's a different story when it comes to GKL's machine revenue, which dropped 10.3 percent to KRW5 billion ($4.65 million) last month.
The tally brought GKL's total casino revenue for the first five months of 2018 to KRW202.1 billion ($187.98 million), a 3.6 percent increase from the same period last year.
Table revenue during the January to May 31 period rose by as much as 6.5 percent to KRW177.70 billion ($165.28 million) year-on-year. Machine revenue suffered a 13.7 drop to nearly KRW24.36 billion ($22.65 million).
GKL, which operates three foreigners-only Seven Luck gaming venues, is the second Korean operator to record positive casino sales last month.
Last week, Paradise Co. announced that its May casino revenue grew to KRW51.96 billion ($48.5 million) from KRW41.51 billion ($38.63 million) in May 2017. Paradise also managed to recover from a minor financial slip, with casino revenues surging 36.0 percent last month from April 2018.
Despite posting positive casino sales results, gaming analysts noted that GKL continues to reel from Beijing's decision in early 2017 to restrict Chinese group tours to Korea to protest the deployment of a U.S. missile system on Korean soil.
This was evident in GKL's first quarter net income, which fell by 1 percent year-on-year to approximately KRW17.35 billion (US$16.26 million). Data showed that the number of VIPs from China dropped 42 percent.
The post Strong table game results lift GKL May casino sales appeared first on CalvinAyre.com.